We interrupt the regular scheduled May Post to bring you something SUPER exciting! PinkE's very first Blog Hop! How exciting is this!? There are some AWESOME folks in this hop and I'm honored to be here with them! You don't want to miss a single blog today because we have Mothers Day Projects for all those Mom's (or Mom like women) in your life!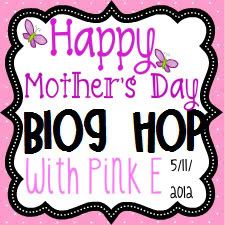 For those of you NEW to Kricut Krazy - we are having a Month Long contest - the more comments you leave on ANY project during the Month of May the more chances you have to win at least 31 yes THIRTY ONE prizes! At the end of the month we will choose a winner randomly to win every single project done this month - there are tons of frames and cool things as well as cards and layouts! Please be sure to FOLLOW this blog and leave a comment on every post (comments left on You Tube videos for corresponding projects will also be counted)
Now back to the hop!
If you have come here from Creations by Rosie, then you are in the right place!! If not, why not start from the beginning at Pink E's blog!!
Line Up
I have TWO items for you today! First is this cute frame for my mom (the one in the center) with her great grandson Jaxon. The frame was 1.00 at Michaels and I used paper from the DCWV Boys Nursery paper stack. A few gems and bows and Jaxon's name with wooden letters and INSTANT gift that Mom adored! (My sister is on mom's left and my beautiful niece and first time mom Lauren is on mom's right. Lauren and her husband are very proud parents and Jaxon is just the cutest lil guy!
Ok so - here is my first ever all by myself, didn't use a recipe and it's not from a Cricut Cartridge Project. EEK! I want HONEST feedback my Krazies - we learn from others so PLEASE be honest.
I used the Pemberly kit from Close to My Heart. This is a super cute kit and coordinates with the most awesome cartridge EVER. Art Philosophy. If you don't have it - get it. You won't regret it. The background card stock is a blue I'm starting to fall in love with. The flower in the center is actually cut from a piece of cardstock in the kit that was full of flowers. I edged it with blue ink. There is a solid blue shadow and then the 3 pieces of cream that were run thru the cuttlebug and taped down. The blue squares are metal and were with the kit. The butterflies I inked the edges, they are wooden and also in the kit. I put pearls on the wings and colored them blue to match. The shoelace type material down the center was also in the kit.
The inside of the card is actually my favorite. The words and butterflies are from the Pemberly stamp set, however the "Happy Mothers Day" is from Joy's Life and the little trails after the butterflies are from Bzz a stamp set from CTMH.
Ok there you have it - my 2 projects. Both created from my head - first time ever. I've always copied stuff - so bring on the comments - would love to hear your thoughts. Remember, to qualify for the contest to win 31+ projects you must be a member of the blog and leave comments.
Enjoy the hop and Happy Mothers Day!
Hugs and Chirps!