How lucky am I? I've received the following awards today July 13, 2010. I'm so excited and honored. Thank you!
KRICUT
KRAZY INSPIRATION AWARD
The Inspiration award was created to thank the folks who have blogs that Inspire me. If your blog is listed, please grab the button and place it proudly on your website. Thank you SO much!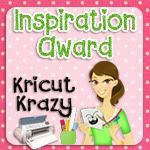 *please right-click and choose option "save as..."
save award to your own computer, pick a host, and publish onto your blog!*